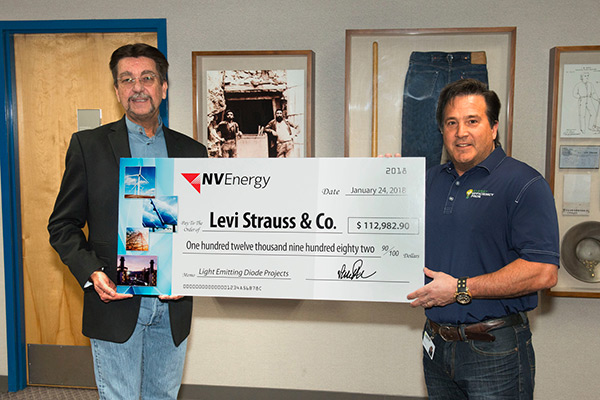 In an effort to reach environmental company goals, reduce its utility costs, and take advantage of the NV Energy rebate incentive program, Levi Strauss & Co turned to Energy Efficiency Pros of Scottsdale, AZ for a high-efficiency lighting retrofit solution.
After developing an initial project design, Energy Efficiency Pros got to work and provided an LED solution to replace every fixture and lamp both internally and externally of the approximately 1 million square foot facility.  
The final project design was completed in June, 2017 and included lighting customization to handle every area of the Levi Strauss & Co Distribution Center.  Installation was completed in September, 2017 and initial energy savings were astounding!
"We replaced almost 4,000 lamps and saved approximately 2.9 Million kWh" Said Energy Efficiency Pros' owner Don Arrigo. "Our client will save an estimated $4,200,000 over the lifetime of the new lamps installed and to top it all off, NV Energy picked up $112,982.90 of the cost!"